Frequently Asked Questions:
1. Will this work for me? What if I'm overweight, don't have a lot of money, or I'm balding, unattractive or from a different social or ethnic background?
The short answer is yes, this system works for any guy - and it doesn't matter who you are or what you're like. You're going to learn how to target specific "attraction triggers" that are embedded in the minds of ALL younger women...and you will also learn a complete set of tools, tactics and techniques from the world's top dating coaches that will make it ridiculously easy for you to meet younger women, easily create sexual chemistry with them, and make them feel undeniably gut-level ATTRACTION towards you (even if they aren't normally "into" guys your age).
2. What if there's a younger woman I want to hook up with, but I already know she doesn't date older guys?
It's common for younger women to SAY they aren't attracted to older men. But in reality, all this means is that she hasn't ever met older guy who knew how to trigger the right emotions in her. The fact is, women are hard-wired to want to be with older men because they symbolize wisdom, maturity, knowledge, stability, and other qualities that ALL women are programmed to seek out in a partner. However, most men have no idea how to convey these qualities to women and so their age becomes a deterrent instead of an asset. In this course, you'll learn from the pros how to turn your age and experience into your ultimate seduction tool.
3. What is the Mastermind Club?
The Mastermind Club is a special online resource area which is basically a vault filled with private videos, audio recordings, books, and much more, from the world's top pickup artists, seduction experts and dating and success coaches. Every month, you'll receive access to new modules of information. Your first month of access is free and you can cancel at any time. If you decide to stay on, it'll be just $9.99 per week. Many of our students have been Mastermind Club members for more than one year, and say it's the best investment they've ever made in their success with women (and in life). Go ahead and check it out for 30 days, it's free during this trial period and you've got absolutely nothing to lose.
4. What Payment Methods Do You Accept?
We accept Visa, MasterCard, American Express and Debit or Bank Cards with a Visa or MasterCard logo on them. And of course we accept PayPal.
5. What Will Show Up On My Credit Card?
Your credit card statement will simply say CLICKBANK*Com. Your purchase will be 100% private and discreet. No one will ever know your newfound success with women is due to this course (until you want to tell your friends and brag about it!)
6. How Soon Will I Get Access to the Program?
As soon as you complete your checkout on the next page, you will be taken inside our private members area so that you can start learning the course immediately. All of the materials that come with this course are digital and can be viewed or downloaded on your computer, phone, iPad, or other mobile device. Nothing is being shipped to you in the mail. All of the secrets will be laid out in front of you just seconds from now.
Got Questions?
Let's hear them! If you have any questions about ordering or even questions about the program please send them to support [at] attractionhelp.com. We will be happy to answer anything you want to know.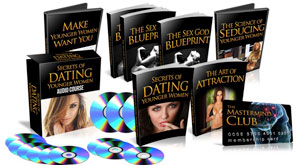 100% Risk Free! Remember, you are NEVER at risk as you're always protected by our 60-Day, No B.S., 100% Money Back Guarantee.
"Hey guys I'm writing in to say thanks! Because of this course I'm enjoying more sex and better sex than I've ever had in my life.
I like sexy, athletic younger women. (Honestly, what guy with a penis and a pulse doesn't?) Even though people say I look much younger than my age, I always felt a little uncomfortable about being so much older than the girls I wanted to date. So I always used to lie about my age.
There was one girl in particular who I was DYING to score with. Vanessa. She's a gorgeous 24-year-old hostess at one of the nicest restaurants in my town. I tried to ask her out one time and she smiled and told me (as nicely as possible) that she didn't date 'men my age.' (She thought I was 38. I'm actually 43.)
Then I discovered your website and downloaded the 'Secrets Of Dating Younger Women' course. It was packed full of so much great information. I especially loved all of the audio coaching sessions, since I could listen to them in my car on the way to work, and on my headphones at the gym.
A week later I returned to Vanessa's restaurant to give it another shot. This time I engaged her in some fun, flirtatious banter, just how the course explained. I actually revealed to her that I was 43 years old but then I used your 'age gap destroyer' technique to turn the tables and make HER think that she was 'too young' for ME!
After my meal, she personally delivered the check to my table...along with a folded-up piece of paper which she'd written her phone number and Facebook address on...
So I contacted her on Facebook later that night, and used a few of your tactics to tease her (in a good way) and pump up her curiosity. We met up the next day for drinks, and I simply followed the steps laid out in your course to get her back to my place and close the deal. You've got the whole process of seducing younger women down to a science...and now I do, too!"
- Jim D.




© 24 Hour customer support: support [at] attractionhelp.com