For guys who are easing back into the game after ending a long-term relationship, I recommend online dating as a great starting point. Try setting up an account on match.com, yahoo personals, and craigslist (free). If you're just trying to get laid, you might try adultfriender.com.
Remember what I said earlier about having pictures of you in a wide variety of contexts? Now is the time to use them. Write an interesting profile and upload those awesome pictures.
(Be sure to proofread your profile carefully before you activate it; if you're not the greatest with spelling and grammar, have it looked over by a friend who has some writing ability. First impressions are huge, and no one is impressed by a profile that's riddled with grammatical errors.)
Email all of the attractive women in your search range and see where it takes you. Don't be surprised if you only get a few replies, or none at all, at first. You need to keep hacking away at it. The reality of online dating is that there are 2-3 times as many guys online as women, and the gals are wading through dozens, sometimes hundreds, of emails. It's similar to regular dating, to be quite honest.
I also highly recommend that you get out of the house and go to bars and clubs, even if you haven't been in years, or you dislike those venues. Women in your target range frequent these places, and that means you need to go where they are.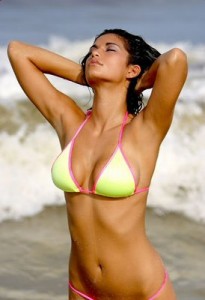 If you aren't comfortable talking to a woman in a bar, why would she want to go on a date with you? She's in the bar. You should be there, too. Go talk to her.
To make it easier, I recommend going with friends to the higher-end bars. You know the upscale Irish bar that every sizeable town has? Or the wine bar? Or the martini bar? Go to those places.
Yes, you can go to the crazy, booty shaking clubs also, but start with the venues that are closer to your vibe. I also recommend going on a night when it's crowded and people are standing everywhere, since this makes it easier to spark up conversations with strangers.
Here's another tip: go with married friends or couples. Having women in your group, regardless of whether they're with their boyfriends or husbands, gives you "social proof" in the environment.(Essentially, any woman in your group is "vouching" for you as a cool person, in the eyes of all the other women in the room.)
You can even use your buddy's girlfriend or wife as your "wing-women." It can be a lot of fun. Or, have your platonic female friends introduce you to attractive women. (Women love to play "match maker" for a friend.)
Remember, this is a process that begins today, but will take some time and trial and error to perfect. There is no magic bullet to bag a younger gal.
You're going to get blown off by some, but you'll also have some fun, encouraging interactions and if keep at it, you'll start getting phone numbers and lining up dates. Maintain a healthy perspective about the process: have fun first and foremost, and try to get dates second.
Good luck and here's to you scoring a younger babe, the type your buddies wish they could have a shot at! Click here for tips on how to date young chicks.