As one of the most often-quoted dating experts in the country for the last ten years, David Wygant has been prominently featured and consulted by thousands of media outlets. He has appeared on E! Entertainment Television, FoxNews, Dateline NBC, CBS News, ABC News and MTV. He has also appeared on over 2,000 radio shows. 
David has been featured and quoted in over 100 magazine and newspaper articles including in Cosmopolitan, Men's Health, The New York Times, The Chicago Tribune, USA Today, and The Los Angeles Times.  David is one of the leading writers for Yahoo! Personals, and is one of the only dating coaches who works with both men and women. He offers an array of products and coaching services which can be found on his website. David's website also includes a daily blog for both men and women, along with daily video blogs and podcasts. 
I'm happy today to be talking to David Wygant about how to approach and meet younger women. When I think of you, David, I think of that MTV show you were on called "Made." You were also on another other show I was on, called" Sex 2K"… that was actually my first exposure to you, and your teachings.
I started in 1998. You and me, we're the veterans (laughs)…
So how did you get into this field and start doing this?
It's funny; it's something that I always wanted to do. I used to make jokes about it to friends of mine back in the early 90's. I was married, and then divorced, and I would go to bars and I was just not in the mood to be "that guy"—you know, the guy standing around in a bar trying to talk to women. I thought to myself, there must be a better way, and so I started meeting women out and about. I'm not a bar person to begin with, and I don't particularly like it or enjoy it. I just don't think there are any redeeming qualities to sitting back and sucking down alcohol all night, because I'm a non-drinker.
So, I started going shopping and doing things I like, and using it as a means to meet women. Then, when I moved toLos Angelesin 1998, a group of guys started following me around all the time because they wanted to learn how I was doing it. It was like "David's Bootcamp."  They were all successful, smart guys, but they just weren't good at one side of their life. That's how I started in this field. It was something I really enjoyed and understood, and I worked really hard on myself to take it to the next level. It became this great business, and now it's what I do.
Do older guys often tap your brain about how to meet younger women?
I get asked about this a lot. There are a lot of older guys out there who have not had much experience with younger women, but they want to get into the game. I tell them, if you're going to play with younger women, you need to start by understanding their psychology.
How do you explain the "younger woman psychology?"
The psychology of younger women is what I call "the little kitten and the string." Don't give them everything. The more you ignore them, the more you tease and tantalize them, the more they want you. The problem with a lot of older guys is they try to "buy" younger women. If you "buy" her—taking her to great places, paying for expensive dinners, and constantly doing things for her, you're basically going to become her sugar daddy. She's not going to have great, wild, crazy sex with her sugar daddy. She's going to have great, crazy, wild sex with her lover.
And the only way you are going to become her lover is to learn the art of teasing her, ignoring her, and absolutely busting her every chance you can get. Because she wants what she cannot have.
You have to learn that concept. (The same as when you dangle a string in front of a kitten. As long as you keep the string out of reach, the kitten will go crazy trying to get ahold of it; when you drop the string into the kitten's paws, it loses interest in about three seconds.)
A lot of older guys just don't get it. They overdo it on the gifts and the dinners and the trips, and you're basically just buying a woman who will have sex with you for about three minutes and that's it. It's not worth it.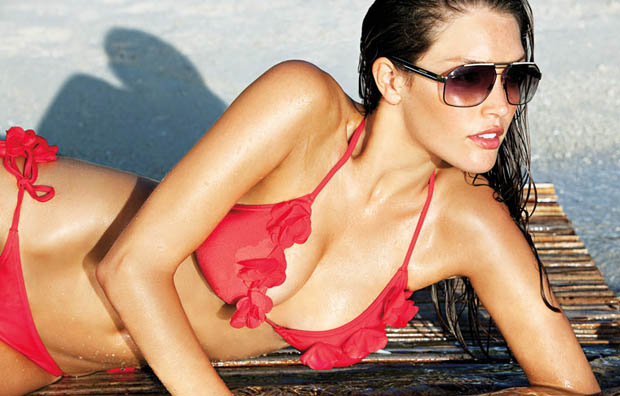 That's true. It's like a lot of older men put younger women on a pedestal—viewing them as the golden prize they have to spend all their time and money on. They might also realize there's a downside to dating younger women, especially the immature ones…
Yes, there can definitely be a downside if she's not mature. You're going to get a woman who is going through the dramatic stages of her life, so she's going to be very inconsistent with her emotions, and what she wants. Older guys think that sex with a younger woman is going to be wild and crazy, but it's might actually not going to be that way. You might have much better sex with a woman who is over 30.  Some younger women are going to be crazy one night, and then not sleep with you the next night because she still has guilt issues that are left over from childhood.
Secondly, she may have unrealistic views of the world because she has not experienced life. Sometimes the stuff that comes out their mouths makes me scratch my head. But in a lot of cases, when I was their age, I used to think that way, too.
Look, some guys just want young women. They want that hot young piece of ass. It validates them. It makes them feel good. They never had it before, so they put up with the bad parts. Personally, I don't date women under the age of 30 and I'm 45. I've traveled the world and have run five successful businesses.
I work hard. In my case, I don't feel that a woman under the age of 30 is going to understand me, and I don't want to go back in time. But I've coached a lot of men my age who wanted to date women in their 20's, and it's not a tough thing to teach.
You mentioned earlier that many older guys default into buying younger women gifts, spending a lot of money, becoming a sugar daddy…what are some of the other ways they make mistakes in dating younger women?
They don't look cool. They look like dorks. The fact is, they don't dress, hip, fun, or trendy at all. If you are going to get a young girl, you better dress the part. You don't wear your high-waisted jeans or your Dockers to go meet them. You don't want to look like a nerdy accountant. Instead, you want to look like the business guy who is a rock star on the weekends. You want to dress the role. You want to be that person before you go out.
For me, I can attract women of all ages a 23 year old or whatever, with no problem—because I have a complete image that I've created. My image is based on confidence, attitude, and knowledge, and I dress the part. I dress hip, young, and fun. The problem with most guys, especially men over 40, is that they don't do enough work on themselves. They are not hip, young, or cool, but they want the young tail. If you're going to go after the young women, you better know how to dress the part, and speak the language of the part, and walk the part, and talk the part.
It's not about your wallet; it's about your game. It's marketing. You need to learn how to market yourself properly to get to the young women. It's funny to me to see older guys who just got off the golf course go up and hit on a young, hot woman, and all she's picturing is one of her Dad's friends who just came from the golf course.